Brake cylinders are critical components in any vehicle's braking system, ensuring reliable and efficient stopping power. In the United States, a competitive market of brake cylinder manufacturers has emerged, each offering innovative solutions to meet the demands of modern automotive technology.
This article explores the top 10 brake cylinder manufacturers in the USA and highlights their contributions to the industry.
The List of the Top 10 Brake Cylinder manufacturers
Raybestos Brake Cylinders
For over a century, Raybestos has held a global reputation for delivering innovative, dependable, and safe brake parts, solidifying our position as a leader in the automotive aftermarket.
With a brand heritage tracing back to 1902, Raybestos brings forth a legacy defined by experience, enduring strength, and a brand that commands trust.
Their seasoned team of dedicated quality engineers works tirelessly to ensure that each product we conceive—spanning from friction materials, rotors, drums, calipers, and hub assemblies to hydraulics—matches or even surpasses OE form, fit, and function.
Rigorous testing of each product ensures the delivery of high-quality and reliable components to their customers.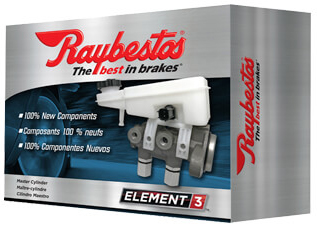 Advantages of Raybestos Brake Cylinders products:
Built for Durability: Raybestos brake cylinders are meticulously constructed to ensure a long service life. They incorporate the highest-quality components, underscoring the company's commitment to producing reliable and durable solutions.
Uncompromising Manufacturing: Raybestos never takes shortcuts in the manufacturing process of their brake cylinders. Every detail, from materials to vehicle-specific designs, is meticulously matched to Original Equipment (OE) specifications.
Attention to Detail: Raybestos emphasizes precision and authenticity. For instance, while some competitors might opt for soft brake cylinder boots as a cost-cutting measure, Raybestos brake cylinder boots are designed to match OE form, fit, and function.
Consistent Performance: By adhering to OE specifications, Raybestos brake cylinders deliver consistent performance across various driving conditions.
Mopar Brake Cylinders
MOPAR stands as the official and exclusive source for original equipment parts and accessories designed for a myriad of motor vehicles falling under the esteemed brands of Chrysler, Dodge, Jeep, Ram, and Fiat.
With a heritage spanning over 80 years, the company boasts a storied legacy. Both professional technicians and casual car owners around the globe rely extensively on MOPAR accessories and parts for their repair and maintenance requirements.
The MOPAR brake cylinder emerges as a highly recommended OEM product. If your vehicle finds itself among the models listed above, the MOPAR brake cylinder presents itself as the perfect match.
Crafted using cutting-edge technology, MOPAR products assure consumers of unparalleled quality and enduring durability.
Advantages of Mopar Brake Cylinders products:
The perfect solution for maintaining your vehicle's hydraulic brake system in optimal condition.
Crafted using premium materials and the most cutting-edge technology available.
Precision-engineered to deliver exceptional braking support.
Exceptionally resistant to wear and tear, ensuring a durable product lifespan.
Bosch Brake Cylinders:
Bosch, founded in 1886, a global powerhouse in the automotive industry, stands as a symbol of innovation, precision engineering, and reliability.
With a legacy spanning over a century, Bosch has established itself as a trusted name in various sectors, including automotive components.
The company's commitment to excellence is vividly reflected in their range of brake cylinders, which serve as integral components in modern vehicle braking systems.
Bosch has consistently pushed the boundaries of technological advancement, setting new benchmarks in automotive engineering.
The company's expertise extends across a wide spectrum of automotive components and systems, with a strong emphasis on safety, efficiency, and sustainability.
Here are some advantages of Bosch brake cylinder products:
Needs less space for installation
Helps to reduce fuel consumption through a weight reduction
High brake fluid flow rate even at low temperatures
Worldwide standardized manufacturing process guarantees the same quality standards
GDST Brake Cylinders

GDST is a professional brake cylinder manufacturer with more than 20 years of experience, specializing in producing brake master cylinders, brake wheel cylinders, clutch master cylinders, and clutch slave cylinders.
Their can supply a wide range of brake parts, including brake calipers, clutch release bearings, and repair kits. Moreover, we can also do customization to meet customers' requirements on packages.
GDST auto parts have more than 2000 models of brake cylinders, which are mostly exported to America like South America and North America, Australia, the Middle East, Africa, and Europe, covering more than 30 countries, and we have reached cooperations projects with more than 30 brand customers.
Today their monthly production of brake cylinders capacity is over 100,000 pcs.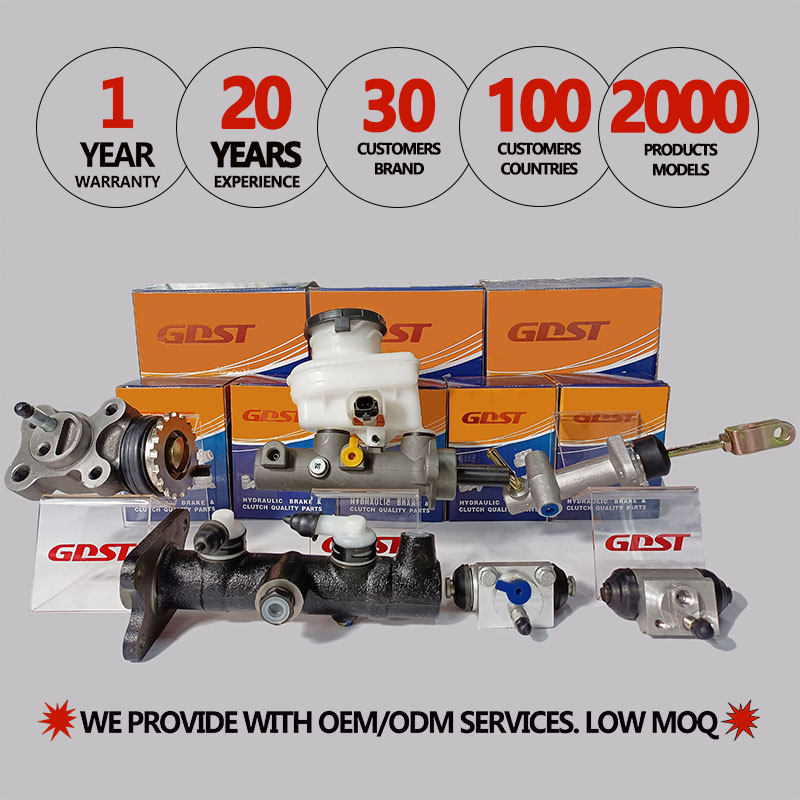 Here are some advantages of GDST Brake Cylinders products:
Over 20 years of rich production experience
IATF16949 and SGS certification
Professional After-Sales Team
One year/30000km warranty
Lower MOQ-50pcs for each model
Factory direct selling prices with OEM/ODM service
Sample available
Fast Delivery Time
Cardone Brake Cylinders
Cardone, established in 1970, has emerged as a pioneering supplier of brake cylinders and a manufacturer of various automotive components, including brakes, drivetrain, electronics, engine, fuel, air and exhaust, motors, and steering.
With decades of extensive experience and profound expertise, the company excels in crafting products that mirror numerous OEM units available in the market.
At the core of Cardone's offerings lies the remarkable brake cylinder, a source of immense pride for the company. This product extends reliable braking assistance and ensures a hassle-free installation process.
Leveraging the finest quality materials, Cardone meticulously constructs its brake cylinders to exhibit exceptional resistance against wear and tear, thereby instilling a sense of driving confidence like no other.
Below are the features of the Cardone brake cylinder products:
Stringent Quality Control: Remanufactured brake cylinders undergo thorough inspections and performance evaluations to ensure they meet or surpass industry standards.
Wide Application Range: Cardone caters to a wide range of vehicles, including cars, trucks, and SUVs.
Eco-Friendly Remanufacturing: Cardone's brake cylinders undergo a meticulous remanufacturing process that involves disassembly, thorough cleaning, replacement of worn components, and comprehensive testing.
TRW Brake Cylinders
TRW Automotive, a subsidiary of ZF Friedrichshafen AG, stands as a global leader in the automotive industry with a rich heritage of innovation and excellence.
Renowned for its commitment to safety, performance, and advanced technology, TRW has solidified its position as a trusted supplier of automotive components worldwide.
Among their exceptional offerings, TRW's brake cylinders shine as a testament to their dedication to ensuring secure and efficient braking systems.
With a history dating back over a century, TRW has consistently pushed the boundaries of automotive engineering.
The company's focus on pioneering technologies and safety systems has revolutionized vehicle safety standards.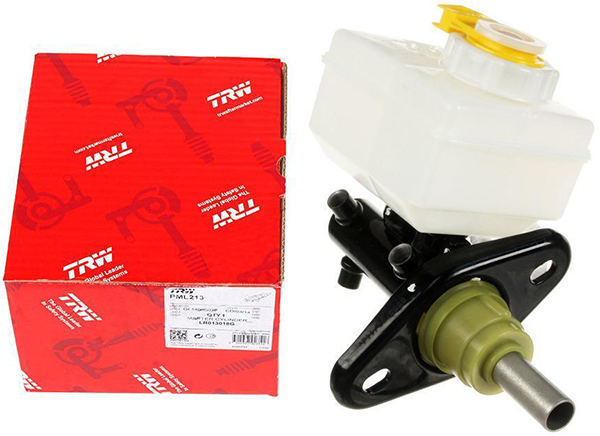 With TRW Brake Cylinder products, you get:
A robust brake cylinder manufactured in steel, aluminum, or cast iron
The option to choose light aluminum bodies to reduce vehicle weight
A high coverage range of premium quality parts, all supplied with fitting accessories
A protective, durable, and environmentally friendly coating with the latest chrome 6-free 'silver' finish for steel and cast iron models
Original equipment spec rubber seals and dust caps to resist ageing
Wilwood Brake Cylinders
Wilwood Engineering, founded in 1977 by Bill Wood, has established itself as a leading force in designing and manufacturing high-performance disc brake systems.
With a legacy spanning over four decades, the company's expertise lies in developing custom-engineered brake solutions for a diverse range of applications.
From competitive motorsports to agricultural equipment and military vehicles, Wilwood's comprehensive range of brake systems demonstrates their dedication to precision engineering and innovation.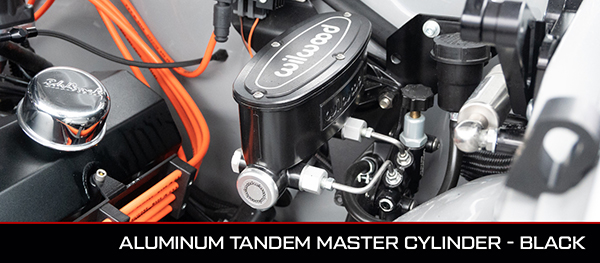 Advantages of Wilwood Brake Cylinder Products:
Rapid Customization: Wilwood's core competency lies in rapidly creating custom brake systems using a blend of readily available and bespoke components. This agility enables them to tailor solutions for a wide variety of applications, ensuring optimal braking performance.
Diverse Application Range: Beyond motorsports, Wilwood's expertise extends to various sectors, including agricultural, industrial, utility, and military vehicles. Their versatile brake systems are designed to excel in challenging environments.
Advanced Engineering: Wilwood employs cutting-edge computer-aided design and manufacturing techniques, backed by finite element analysis, dynamic testing, and cycle test equipment.
Quality Assurance: The company maintains ISO 9000 compliance and boasts a track record of sustaining quality levels of 100 parts per million (ppm) or less for original equipment manufacturers.
Centric Brake Cylinders
Centric Parts stands as a prominent manufacturer and supplier, specializing in aftermarket brake components tailored for passenger vehicles, medium-duty trucks, and fleet vehicles alike.
With a strong focus on meeting the needs of professional technicians, Centric offers an extensive lineup of brake pads, rotors, calipers, and hydraulics, meticulously crafted to suit various budget considerations.
Distinguished by their accolades, Centric's comprehensive catalog spans the widest spectrum of applications within the industry.
Their award-winning catalog covers the widest range of applications in the industry eliminating the need to mix brands when servicing vehicles.
There are some features of Centric Brake Cylinders products:
Quality Craftsmanship: Centric's brake cylinders exemplify their commitment to quality. Crafted with precision and attention to detail, these components undergo rigorous manufacturing processes to ensure their durability and reliability.
Wide Range of Applications: Centric's diverse product line caters to a variety of vehicles, making their brake cylinders suitable for an extensive array of makes and models.
Affordable Reliability: Centric strikes a balance between cost-effectiveness and performance. Their brake cylinders offer dependable braking aids without breaking the bank, making quality replacements accessible to a broad spectrum of customers.
Stringent Quality Control: Every Centric brake cylinder undergoes rigorous quality control procedures to meet or exceed industry standards. This commitment to quality guarantees consistent performance and safety.
Wagner Brake Cylinders
Wagner, a renowned name in the automotive industry, stands as a testament to excellence and reliability. With a legacy spanning decades, Wagner has established itself as a trusted provider of automotive components, particularly in the realm of braking solutions.
Among their exceptional offerings, Wagner's brake cylinders shine as a hallmark of their dedication to delivering superior performance and safety.
Wagner boasts a rich history of contributing to the automotive industry's evolution. Known for its commitment to quality and innovation, the company has positioned itself as a reliable source for brake components and systems, catering to the needs of diverse vehicles and driving conditions.
Here are some advantages of Wagner Brake Cylinders products:
Proven Reliability: Wagner's brake cylinders are synonymous with reliability. Built to withstand the rigors of braking systems, these components offer consistent and dependable performance over time, contributing to overall road safety.
Comprehensive Product Range: Wagner offers an extensive selection of brake cylinders designed to address different vehicle models and requirements. This diverse range ensures that vehicle owners can find the right fit for their specific needs.
Performance Assured: Wagner's brake cylinders are tested rigorously to guarantee their performance and safety. Through meticulous testing procedures, these components are proven to deliver reliable braking efficiency in various driving conditions.
DFC Brake Cylinders
DFC is dedicated to bringing excellence, innovation, and exceptional value to the automotive sector. Their mission revolves around crafting brake products of Original Equipment (OE) quality, catering to a wide spectrum of both foreign and domestic vehicles.
Renowned as a frontrunner in the industry, DFC stands as the premier manufacturer of award-winning automotive braking systems. Their commitment is reflected in their extensive inventory of brake components, encompassing a vast range of applications for both domestic and foreign vehicles spanning from 1930 to the present day.
Alongside their acclaimed braking systems, the product line boasts a comprehensive array of offerings including brake cylinders, brake rotors, brake pads, drums, brake shoes, hardware kits, and brake sensors.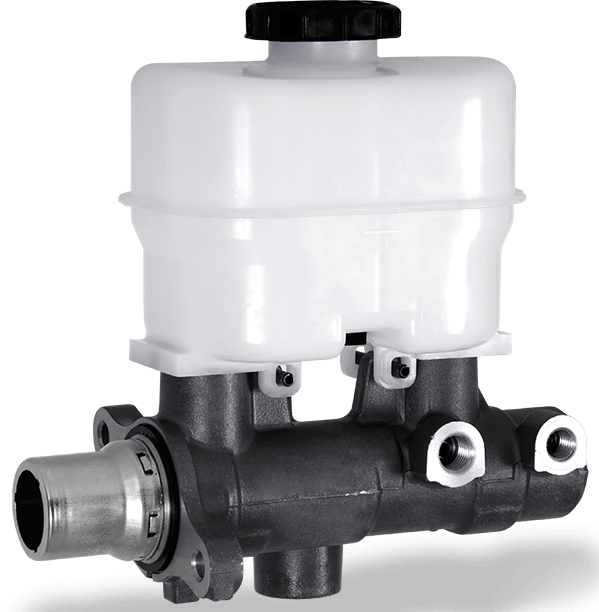 Features and Benefits of DFC Brake Cylinders products:
Adheres to OEM Specifications: Ensuring Proper Form, Fit, and Function
Crafted to Stringent International Standards: Eliminating Defects with Excellence
100% Outright Hassle-Free Program: No Cores to Return, No Core Charges
Includes hardware required where applicable
Extensive Coverage for Popular Applications: Foreign and Domestic
In Conclusion
The U.S. brake pump manufacturing industry is a dynamic landscape, driven by innovation, performance, and safety. These top 10 manufacturers have played significant roles in shaping the industry, offering solutions that cater to diverse vehicle needs while upholding the highest standards of quality and reliability. Whether it's smart technology, customization, sustainability, or affordability, these manufacturers continue to contribute to the advancement of brake pump technology in the United States and beyond.
We are hoping that you can have the best supplier for your brake cylinders business, whether you are wholesale distributor, retailer, or any private related companies. This article is specifically designed for your advantage.