Reliable

CV Joints

Manufacturer from China
Get ready to experience peak performance with GDST's top-selling product range. GDST CV Joints and drive shafts are your go-to choice for dependable, high-quality components tailored to meet your business requirements. Our precision CNC machined splines ensure an exact OE fit, and all essential CV axles and CV joints come with the necessary hardware for a seamless installation. With a selection of over 7,000 models and a global vehicle application coverage of 95%, GDST has you covered wherever you are in the world.
GDST CV Joints and Drive Shafts
GDST is a professional CV Joint manufacturer with 15 years of production experience in China. We carefully select top-tier materials for producing our CV joints to ensure they meet or exceed the OE standards. Our components are crafted from Grade 55 steel, known for its exceptional rigidity, strength, and resistance to wear. Additionally, our boots are made of durable and flexible Chloroprene Rubber, enabling them to perform perfectly in temperatures ranging from -40°C to +120°C, offering outstanding protection against stress and cracking.
What sets GDST CV Joint apart is our exclusive quenching treatment, which effectively minimizes steel brittleness and internal stress. This treatment significantly extends the recommended replacement interval to one year or 60,000 km. Our CV joint kits are meticulously packaged and shipped fully assembled, complete with a high-quality grease pack. This ensures a hassle-free replacement experience for a wide variety of vehicle makes and models, including Japanese, Korean, European, and American cars.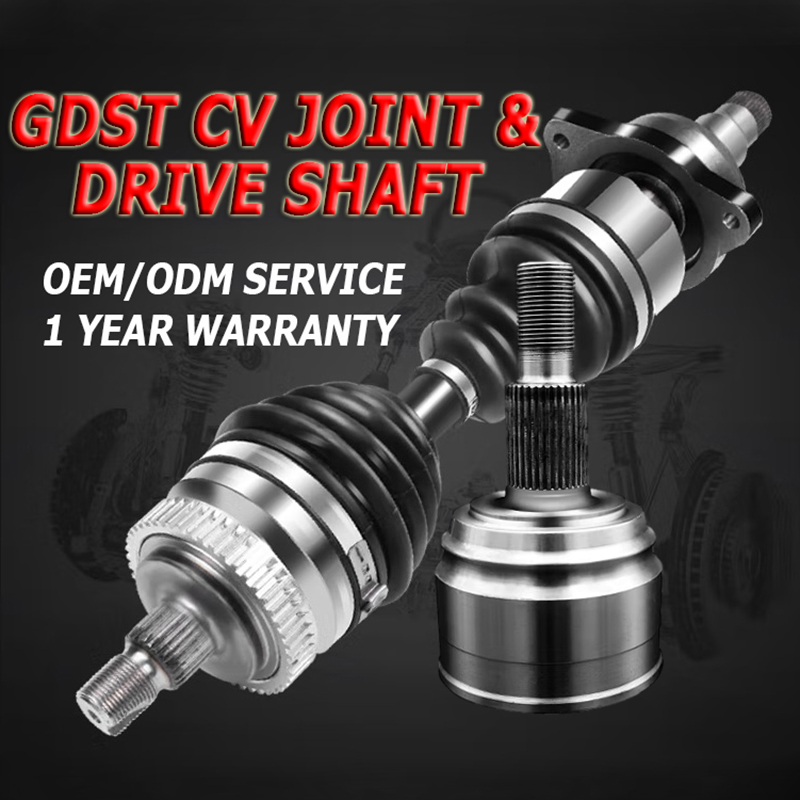 HEAT TREATMENT
GDST employs rigorous heat treatment procedures for all CV Joint and Driveshaft components, adhering to the strictest standards. This results in exceptional strength, heightened tensile properties, and prolonged service life.
STRINGENT QUALITY ASSURANCE
Our Constant Velocity product lines undergo an extensive quality control regimen to guarantee prolonged, hassle-free performance.
HIGH-PERFORMANCE GREASE
We use high-quality Moly grease in the manufacturing process, ensuring superior performance even in high-temperature environments and exceptional resistance to friction under the most extreme conditions.
SUPERIOR RAW MATERIALS
GDST exclusively sources premium-grade raw materials for the production of its components.
Why GDST CV Joints & Drive Shaft?
Diverse Selection: Our extensive product range covers over 7,000 models, providing solutions for a wide range of applications.
Global Coverage: GDST offers 95% vehicle application coverage worldwide, making us a reliable partner regardless of your location.
100% quality test – Every replacement CV joint undergoes stringent quality checks, ensuring dependable performance and full functionality at all times.
One-year warranty, Fast Delivery of 30 days
Do a full inspection of all orders before delivery
24-hour online support on all your customized requirements
Your reliable CV Joint manufacturer in China.
GDST is a professional CV Joints and Drive Shaft Supplier, that supplies a wide range of vehicles, Japanese Korean cars, and American European cars. GDST CV Joint and Drive Shaft are tested by 100% crucial dimensions inspection, high performance, and maximum safety.
Wanna more information for CV Joints and Drive Shafts?
There are more than 7,000 models in this catalog, you can leave us your email download the catalog.
Advantages of GDST CV Joint & Drive Shaft
Wide range of vehicle series: Japanese Korean cars, American European cars, Chinese cars, etc.
Full product models: More than 7,000 models, covering more than 95% of vehicle applications in China, and North America. Europe & Southeast market.
Development investment: Every year, we will invest a lot of money to develop new products, and constantly enrich and improve the varieties and models.
Advanced production equipment: our factory has advanced production equipment, consummate testing technology, and also process and export finished goods abroad.
Strong R&D and production capabilities
WHAT KIND OF SERVICES PROVIDED BY GDST
Professional brake boosters manufacturer supplies high-quality 100% satisfaction brake boosters for your successful business.
As a CV JOINT manufacturer, adhering to the principle of "quality first, customer first", we are very serious about our products and clients.
Factory directly selling price for all customers
We have passed IATF 16949 and ISO9001 certifications, keeping high quality, and provide one Year or 30,000 km warranty.
Support MOQ 100pcs for each code. If we have stocks, 50 pcs are acceptable.
Normally delivery time is  35-45 days, if there are stocks, we can send out packages within 7 days
As a wholesaler, we've found the GDST CV Joints to be a top-quality product. Durable, reliable, and loved by our customers.
The GDST CV Joints has transformed our clients' driving experiences. Great technology, smooth rides, fewer complaints.
We've been using GDST CV Joints at our dealership. They're easy to install, improve safety, and increase customer satisfaction.
As a distributor, the GDST Drive Shafts' performance and reliability are vital to maintaining our positive market reputation. Highly recommended.
We're an established dealership and the GDST Drive Shafts is a game-changer. Easy to sell due to its design and performance. Consistently positive feedback from customers.
If you have any interest or questions about our CV joints and Drive Shaft, please feel free to contact us, we will reply to you within 8 hours. 
Are you a trading company or factory?
We are a CV Joint factory, and we also have a trading department.
Because our business is doing well, with good quality and service.We have made many friends from various countries, and they often ask us to help them purchase some other auto parts from China. It broadening our product range, we can offer our friends different auto parts products, such as control arm,tie rod end, ball joint and more than 30 kinds of auto parts.
What's your MOQ?
Normally

MOQ is 100 pieces of each model.

For the new clients,

MOQ 50pcs/ model

or so is supported.  We are willing to let customers experience our products to know our products and all, only by understanding each other, it can bring you greater benefits. Also naturally will get more orders from customers, if you had a wonderful experience
Can you use my package design, and print my logo on the products?
We support customized packaging.
Sure, all you need is to provide us with your certificate of trademark registration and authorization paper.
And we can also print your logo, product number, or any info you want on the surface of the products.
Which countries have you exported?
We provide the same high quality products for different customers and meet their customized needs Our customers are all over the world and they love our products.We have sold our products to 100 countries all over the world.
What kind of certificate of your factory?
We are qualified with IATF 16949, SGS Certification
What's your quality guarantee?
Basically, our CV joints assure 12 months, and every client will get our lifelong after-sale service.
What is your delivery time?
Normally, delivery time is around 45 days after the order confirmed. 
Urgent orders, we can handle special 
Could I get your sample?
Welcome to try our products. Just pay the freight. The freight will return back once you place an order.
For us to quickly understand your request and give the exact price. It is better if you can provide your detailed list for the brake boosters.
Such as:
1. Part number with the QTY you need
2.  Any special requirements please tell us, we do our best to meet your requirement
The more information you give, we can easily understand your request fast and give the goods you want.
However, if you only want to know the price, just send your list, and our sales with contact you to get your detailed request.
Boost Your Sales and Profits – Ask Us Now!
Your inquiry will be sent to sales manager and get a reply within one working day.