Every journey tells a story. And for us at GDST, each step we take on our global expedition carries a narrative of inspiration, determination, and shared passion. After a successful second stop at the INAPA in Indonesia in May, we started the third stop of our journey in July, bringing our high-quality auto parts products to the vibrant center of Mexico.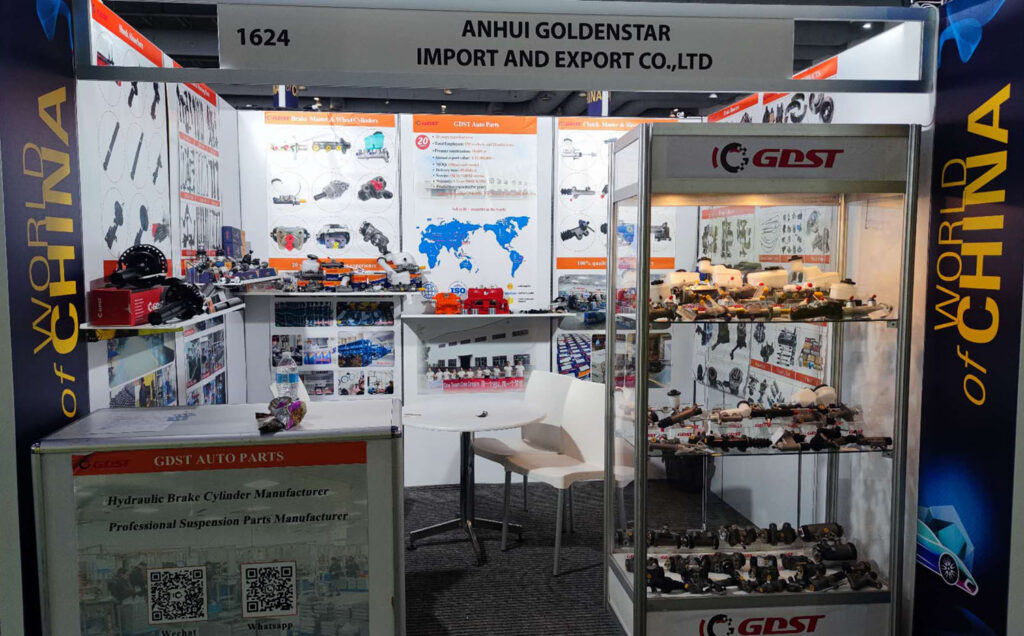 In the heart of vibrant Mexico City, a story unfolded from July 12th to 14th that will be cherished in GDST's chronicles for years to come.
The story is of our exhilarating journey at 2023 Automechanika Mexico, the revered automotive trade fair where we proudly held high our banner at Booth No.1624.
The palpable excitement and raw energy in the air were beyond compare, reflecting the collective passion of the automotive industry.
Within this electrifying ambiance, we unveiled our selection of suspension and brake parts, each a testament to GDST's tireless dedication to quality and innovation.
GDST Suspension Parts Supplier
As visitors trickled into our booth, their eyes widened at the sight of our suspension parts display – shock absorbers, ball joints, tie rod ends, rack ends, stabilizer links, center link, pitman arm, idler arm, inner arm shaft kit, tie rod assembly, suspension bushing, strut mount, engine mount and etc.
Each product, born from countless hours of meticulous engineering and stringent quality control, bore witness to our commitment to excellence.
Their reception was nothing short of heartwarming, with attendees marveling at their resilience and precision.
GDST Brake Parts Manufacturer
Adjacent to the suspension showcase was our array of brake parts. Brake cylinders, brake pads, brake calipers, brake shoes, brake boosters, brake discs, brake drums, brake chambers, brake cables and etc.
Each component is a symbol of our devotion to safety and performance. The enthusiasm and appreciation from our visitors made us realize that our products did not just exhibit superior braking performance, but also instilled a deep sense of confidence and security.
Beyond the tangible products, 2023 Automechanika Mexico allowed us to share our most valuable asset – our vision. We had the opportunity to connect with our esteemed clients, industry peers, and fellow automotive aficionados, each conversation imbued with insight and mutual respect. These interactions, which transcend business transactions, are what truly fuel our drive for innovation.
As we look back at the numerous product demonstrations, the vivid discussions, and the spirited exchanges of ideas, we are filled with a sense of fulfillment and gratitude. Every moment at the exhibition reaffirmed our mission – to advance the automotive industry with our unwavering commitment to precision and reliability.
The echoes of our triumphant journey at 2023 Automechanika Mexico resonate within GDST, instilling an even stronger determination to innovate. The smiles, the nods of approval, the words of appreciation – every response rekindles our passion and reinforces our resolve to continue setting benchmarks in the automotive industry.
From the core of our hearts, we express our sincerest thanks to every individual who graced our booth. Each one of you has left an indelible mark on our journey, and for that, we are eternally grateful.
For those who couldn't be with us, we invite you to immerse yourself in our experience through the pictures captured during the event. Though they can only convey a fraction of the electric atmosphere, we hope they inspire the same feelings of excitement and awe that we experienced.
To 2023 Automechanika Mexico, we bid adieu, carrying with us cherished memories and fresh inspiration. Until the next rendezvous, let's keep fueling the flame of automotive innovation, illuminating the path toward a brighter, more efficient future!