Brake pads play a crucial role in car disc braking systems.
Purchasing OEM brake pads has become much more convenient with the advent of online shopping, compared to several years ago. Nowadays, when you search the internet, you will find numerous brake pad brands, many of which claim to be direct brake pads manufacturers.
Surprisingly, about 89% of these brake pad companies assert that they are either factories or OE manufacturers of brake pads.
However, in reality, most of these companies are merely trading entities that source brake pads from factories and resell them to customers, already marking up the prices and gaining a 15% profit margin.
Consequently, as a buyer, your profit potential from the business is significantly reduced, losing around 10-15% due to inflated costs from dealing with these intermediaries.
To address this issue, we have written this article to assist brake pad distributors, wholesalers, retailers, and other auto parts business owners in identifying brake pad manufacturers. By keeping your eyes open and verifying the legitimacy of these suppliers, you can ensure that you are dealing directly with real manufacturers and not just trading companies.
Brake Pads Manufacturers List:
Raybestos Brake Pads
Headquartered in the United States, Raybestos has been a key player in the automotive industry for over a century.
The company was established in 1902 and quickly built a reputation for its dedication to manufacturing quality brake parts.
Raybestos is a dominant player in the friction products industry, offering a range of features that set them apart:
Innovative technology that distinguishes their products from the competition.
Full-line coverage, providing solutions for a wide range of applications.
Excellent design tailored to specific applications, ensuring optimal performance.
Dependable friction, ensuring consistent and reliable braking performance.
To maintain its commitment to providing only the best products, Raybestos has introduced three different brake pad options for the automotive industry:
Element 3 Brake Pads are the ultimate line of automotive brake pads. The Enhanced Hybrid Technology and professional grade formulations offer a comprehensive array of brake pads for exceptional performance.
R-Line Brake Pads offer reliable stopping power with broad coverage for cars, vans, SUVs, and light trucks.
Specialty Brake Pads are specially designed for police vehicles, school buses, trucks, and medium duty.
Wagner Brake Pads
Wagner Brake is a leading company in the automotive braking and lighting industry, offering cutting-edge solutions for replacing brake systems and lighting.
The company ensures that all its products meet or surpass OEM standards, making them known as innovators in braking technologies for various vehicle types.
These are the advantages of their brake pads:
Specialized brake pads for Pickups, SUVs, and CUVs:
Noise and vibration-free
Dependable and durable
Successfully surpasses stringent in-house testing
Performs exceptionally well in extreme environments
Reduces rotor wear
Wagner offers four variants of brake pads: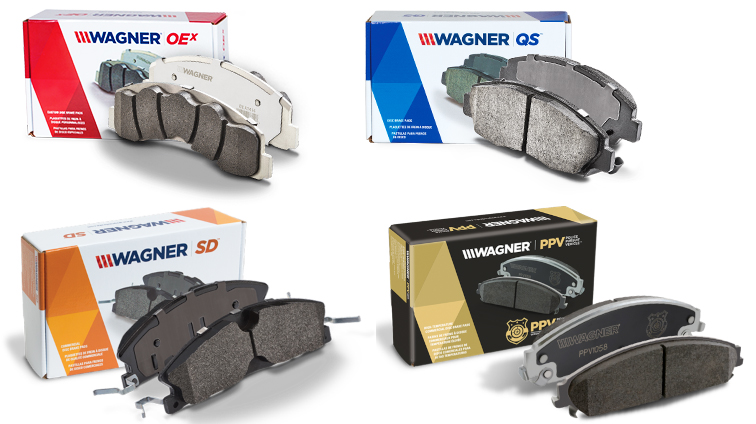 Wagner OE is specifically designed for Pickups, SUVs, and CUVs, ensuring excellent friction performance.
Wagner QS is intended to restore a vehicle's performance to a like-new state.
Wagner SD is engineered for extreme conditions.
Wagner PPV is made specially to meet the unique needs of police vehicles.
GDST proudly manufactures and supplies over 10 million brake pads annually, covering up to 90% of American, Korean, Japanese, European, and Australian vehicle applications. This comprehensive coverage extends to both passenger and commercial vehicles, underscoring the versatility of their brake pad product line. The global demand for GDST brake pads is a direct result of the company's unwavering commitment to quality and manufacturing excellence.
GDST brake pads offer an array of enhanced features and advantages, including:
Material Variety: Choose from ceramic, semi-metallic, and low-metallic materials, catering to diverse preferences.
Expanding Part Range: Continuously expanding the selection of part numbers to meet evolving market needs.
Certifications: All brake pads are E-Mark ECE R90 and Ameca certified, meeting stringent international standards.
Regional Standards: Tailored to meet the specific requirements of Asian, Australian, and European countries, depending on the pad type.
Stable Friction Coefficient: Available with a consistent friction coefficient at temperatures ranging from 600 to 650 degrees Celsius.
Noise Reduction: Improved noise reduction features ensure a quieter driving experience.
Rigorous Testing: Undergoes extensive durability testing, including fleet tests, speed sensitivity tests, and cold comparison tests.
Asbestos-Free: Manufactured using asbestos-free materials, prioritizing safety and environmental responsibility.
GDST's dedication to quality, performance, and safety makes its brake pads a reliable choice for all customers worldwide.
AC Delco Brake Pads
AC Delco has been a prominent player in the automotive industry since 1908, collaborating closely with GM Genuine Parts. With pride, they have supplied automotive parts to over 2 million motor vehicles annually. Renowned brands such as Chevrolet, Buick, GMC, and Cadillac have utilized AC Delco products in their production processes.
The AC Delco brake pads offer several advantages over competitors:
Undergo rigorous testing, including the SAE J2784 test, to ensure optimal performance.
Durability testing ensures the highest quality standards.
Utilization of trusted materials in various components, such as ceramic, semi-metallic, and organic.
Designed with integration in mind for seamless functionality.
All materials used are of superb quality, guaranteeing reliability and safety.
Installation is made easy, even for those with limited automotive expertise.
AC Delco further categorizes its brake pads based on different classifications and components used in their manufacturing: Professional Semi-Metallic Brake Pads, Professional Ceramic Brake Pads, Specialty Ceramic Brake Pads, Advantage Semi-Metallic Brake Pads, and Advantage Ceramic Brake Pads. Each category offers uniquely designed brake pads to cater to specific needs.
Muller Brake Pads
Muller Brakes America was established in 1984 and has become the leading provider of performance brake products in America, is engaged in the design, manufacturing, and supplying of professional disc brake pads, brake rotors, brake fluid, brake shoes, and brake linings for all makes and models of passenger cars, commercial vehicles, and heavy-duty trucks. Müller is an industry leader in friction products and quality customer service. With our outstanding reputation for delivering excellence, Müller Brakes™ is the leader in state-of-the-art braking technology, providing the ultimate braking experience.
Muller Brakes America declares that its brake pads have the following features:
Maintains constant friction consistency
Ensures better braking performance
Delivers longer service life
Requires less resin material
Resists heat fade
Here are some general features of their brake pads that made them stand out:
Premium Metallic: Recommended for SmallPassenger Cars (Sedan)
Professional Carbon Metallic: Recommended for All PassengerCars & SUVs)
Professional Carbon Ceramic: Recommended for All Passenger Cars& SUVs) including high-end
Bendix Brake Pads
Bendix Company commenced its operations in 1924, establishing two divisions dedicated to military and commercial pursuits. It later merged with AlliedSignal, eventually becoming Honeywell Corporation in 1999. In 2013, Honeywell introduced the Bendix STOP product line, and in 2014, it granted MAT Holdings, INC a license to continue utilizing its trademark on automotive products sold in the US. Today, MAT Holdings, INC upholds Bendix's vision. Despite encountering challenges, the company's name remains a stalwart presence in the automotive industry, steadfastly delivering comprehensive brake system packages.
Bendix brake pads are an integral component within each braking system package. Let's delve into the distinctive features of these brake pads:
Engineered to exact OE specifications
Comprehensive coverage for late-model applications
Designed for heavy-duty use with exceptional performance
Noise-free operation for a smooth driving experience
Bendix offers three distinct product lines within its package: Bendix PRIORITY 1, Bendix Premium, and Bendix Fleet Metlok. These well-regarded brake pads from Bendix are accompanied by brake discs and shoes. Each of these brake pad variants is meticulously designed to offer a range of advantages.
Akebono Brake Pads
Akebono started in Japan in 1929 when the Japanese car industry had only made 400 vehicles. It became a public company in 1957. Since then, as cars became more common, Akebono became brake experts in both Japan and other countries.
In 1960, Akebono partnered with Bendix Corporation in the US for brake technology and started making drum brakes using their patents. They began selling in the US aftermarket in 1980, with offices in Chicago and research facilities in Detroit. Today, Akebono has over 3,500 employees in North America and more than 9,000 worldwide.
Akebono brake pads proudly feature are:
No break-in required
High fade-resistance
Consistent pedal feel
Ultra-low dust
Unrivaled stopping power
Akebono manufactures ceramic brake pads in three distinct brands:
Pro-ACT Ultra-Premium Ceramic Brake Pads: industry-leading replacement brake pads for domestic and Asian vehicles
EURO Ultra-Premium Ceramic Brake Pads: provide the ideal vehicle control and braking performance expected by European manufacturers and vehicle owners.
PERFORMANCE Ultra-Premium Ceramic Pads: specifically for vehicles such as trucks, law enforcement trucks, SUVs, and fleets.
Centric Parts Brake Pads
Centric Parts® is one of the largest North American aftermarket suppliers of brake parts for passenger vehicles, light, medium, and heavy-duty trucks, commercial vehicles, racing, and high-performance vehicles. Centric'sreputation for quality among professional technicians is the result of years of hard work from an expert team of engineers and scientists and a first-class manufacturing process.
Centric brake pad's products as one of their product lines have the following features that make them on top:
Worry-Free Installation: Meets OE fit, form, and function with hardware included
Positive Molded Technology: Provides consistent friction quality and performance
Performance Tested: Dynamometer and vehicle testing ensures effective stopping performance, noise, and wear
APC Automotive Technologies Brake Pads
APC Automotive Technologies is situated in North America and stands as a premier supplier within the aftermarket automotive industry. The company's roots trace back to 1927, initially specializing in the provision of exhaust and emission products. Boasting expansive manufacturing facilities encompassing over 450,000 square feet, complemented by cutting-edge technologies and state-of-the-art processes, APC Automotive Technologies has consistently upheld a formidable presence within the industry for numerous years. The company prides itself on delivering comprehensive solutions for both automotive and commercial parts.
Under their brake pads brand, recognized as StopTech, the following features are prevalent:
Exceptional resistance to extreme temperatures, mitigating fading.
Incorporation of noise-free technology upon arrival.
Original Equipment (OE) design featuring slots and chamfers.
Inclusion of OE-designed hardware.
Integration of multi-layer shims to enhance performance.
To ensure the provision of superior quality, StopTech's brake pads are thoughtfully categorized into nine distinct variants: Tactical Police Duty Brake Pads, StopTech Sport Brake Pads, StopTech Street Brake Pads, StopTech Street Select Brake Pads, and the high-performance StopTech Racing Brake Pads. These variants are formulated using four different compounds: SR30 Compound, SR32 Compound, SR33 Compound, and SR34 Compound.
EBC Brake Pads
EBC Brakes remains a privately owned company to this day, and it holds a prominent position as a global leader in the brake component manufacturing sector. The company introduced its initial aftermarket product in Europe during the 1980s, successfully expanding into the US market by the mid-1980s. EBC Brakes boasts an extensive array of braking system product lines catering to various vehicle categories, including Automotive, Motorcycle, Scooter, Truck, and Mountain Bike. Notably, they take pride in the fact that their brake pads are manufactured within their own facilities in both the UK and USA, while their UK location focuses on producing brake rotors and discs for motorcycles.
Highlighted below are some key features of EBC brake pads:
Environmentally friendly, copper-free composition
Immediate enhancement in braking performance
Premium pads designed as OEM replacements
Minimal dust generation from premium-grade pads
Specialized brake pads tailored for race cars
EBC Brakes offers a comprehensive solution for various brake pad needs, serving as a one-stop shop for a diverse range of vehicles, including automotive, motorcycle, scooter, truck, mountain bike, and especially racing cars.
Conclusion
This article aims to assist in distinguishing the various features of brake pads offered by leading OEM companies and manufacturers. Each company presents its unique advantages in the realm of friction brake products. Currently, Ceramic Brake Pads have garnered substantial demand, emerging as a highly innovative option within this product category. Reviews pertaining to brake pads crafted with ceramic components have been prominently highlighted. In any case, our intention is for this article to serve as a valuable guide in your quest to identify brake pads manufacturers and companies.