Your Reliable
Brake Caliper

Manufacturer
GDST AUTO PARTS is a professional and well-recognized brake caliper manufacturer in the automotive industry, with 20 years of experience. Our products are mostly exported to America like South America and North America, Australia, the Middle East, Africa, and Europe, covering more than 30 countries and we continue to expand in the automotive trading market.
Experienced R&D, Production, and Sales Team Meets your various needs for the brake caliper.
GDST Brake Caliper Factory
GDST is a leading automotive brake caliper manufacturer in China. The GDST brake caliper is known for its high-quality construction and precision engineering. GDST brake calipers are usually made from durable materials such as cast iron or aluminum or stainless steel to ensure durability and resistance to wear and tear. They are designed to fit a wide range of vehicles including cars, trucks, and SUVs.
GDST brake calipers use advanced braking technology. It incorporates innovative designs and engineering, such as piston seals, dust boots, and anti-rattle clips, to provide optimal braking performance and efficiency. The GDST brake caliper is also designed to be easy to install, with bolt-on installation options available for many vehicle applications, making it a convenient choice for both professional mechanics and DIY enthusiasts.
GDST brake calipers are rigorously tested to meet or exceed industry standards for performance and reliability. It is designed to provide consistent and responsive braking, even under extreme driving conditions, ensuring maximum stopping power and control for the vehicle. The GDST brake caliper is also designed to be low-maintenance, with features such as corrosion-resistant coatings and self-adjusting pistons that help extend its lifespan and reduce the need for frequent maintenance.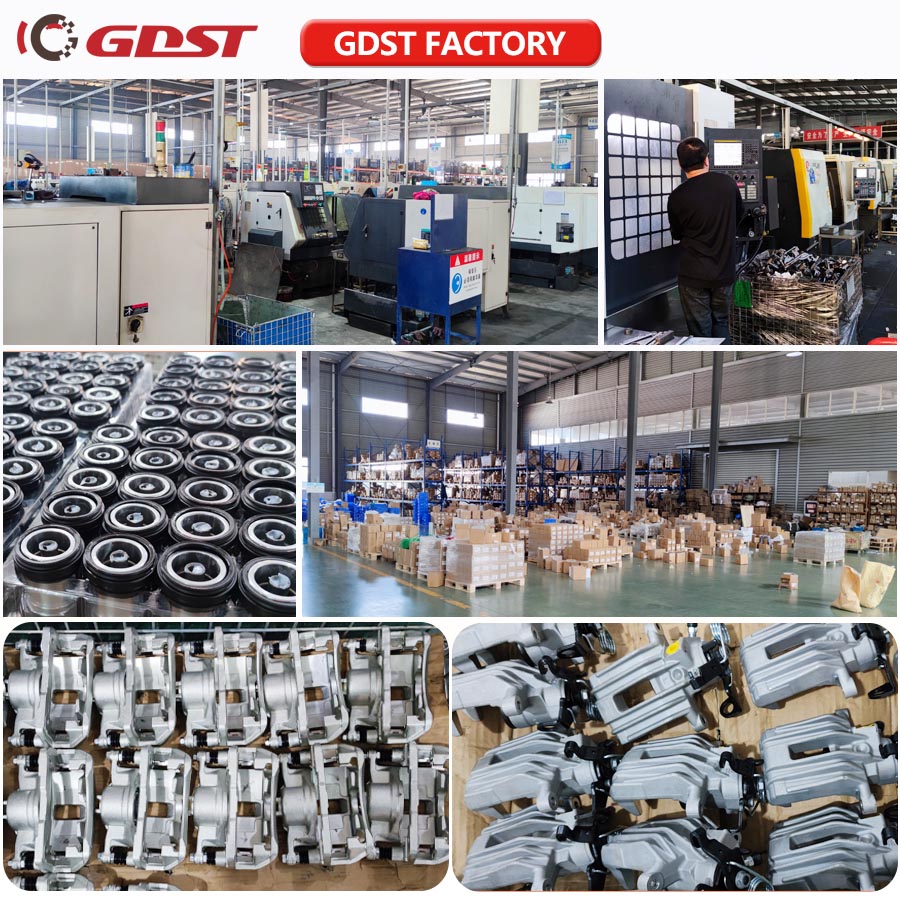 Brake calipers, the fundamental components of disc brakes, encompass brake pads and pistons. Two primary types of calipers exist: fixed and floating, with the latter being most prevalent. As one of the foremost brake caliper manufacturers globally, including being an Original Equipment (OE) caliper producer, GDST brake calipers that cater to an array of car models spanning from popular Japanese, American, to European brands.
In a bid to meet the rising aftermarket demand for top-notch, fresh-off-the-market brake caliper solutions, GDST provides a diverse selection of fixed and floating calipers. These products align seamlessly with the OE design and manufacturing standards.
Crafted from superior aluminum alloys, GDST calipers assure remarkable braking power, control, and comfort, complemented by a standout design. The body of these brake calipers is notably lightweight, compact, and rigid, facilitating sharp braking, swift response time, and a consistent lever stroke. Moreover, the structure of the hydraulic components underlines their robustness and modulation features.
Tailoring to specific needs, GDST offers customizable brake caliper solutions. We have the ability to modify and personalize standard brake calipers according to customer preferences. One of the customization options includes the conversion of GDST calipers from hydraulic oil to brake fluid and vice versa. This is to align them with the necessities of specific applications, further establishing GDST's status as a versatile brake caliper manufacturer.
Expertise in manufacturing brake parts process with 20 years
30000-50000kms/one-year warranty, Fast Delivery of 30 days
Corrosion-resistant coatings and self-adjusting pistons
Available in a wide range of Japanese, Korean, and Europe Vehicles
Equipped with different types of brake caliper castings and brackets
Outstanding braking performance
Inspect all incoming materials for all brake calipers
100% quality tested during the production process.
Do a full inspection of all orders before delivery
24-hour online support on all your customized requirements
Reliable direct brake caliper supplier in China.
Provide 4000+ Models of Brake Calipers
GDST brake caliper is known for its superior performance and reliability, making it a popular choice among automotive enthusiasts and professionals alike.
Brake Caliper for Nissan Renault
7701206754 7701206755
Brake Caliper for Opel Vauxhall
440111516R 440010814R
Brake Caliper for Honda 
45019-TB0-W00 45018-TB0- W00
Brake Caliper for Audi VW
1J0615123 1J0615124
Fixed brake calipers have multiple pistons on both sides of the rotor and are rigidly mounted in place. When the brakes are applied, all pistons move simultaneously, applying equal pressure to the brake pads. Fixed calipers are generally considered to provide better braking performance compared to floating calipers due to their increased clamping force and reduced flexing.
Floating brake calipers are also known as sliding calipers, this type of caliper has a single piston on one side of the rotor, and it "floats" or slides laterally to apply pressure to the brake pads on both sides of the rotor. Floating calipers are commonly used in many vehicles due to their simplicity and cost-effectiveness.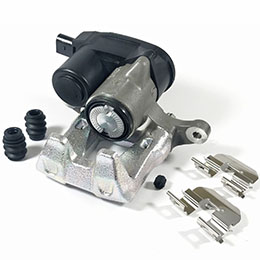 Electric brake calipers, also known as electro-mechanical calipers, use an electric motor to apply pressure to the brake pads. They are commonly used in electric and hybrid vehicles where regenerative braking is utilized, and the braking force can be controlled electronically.
Dual-Piston Brake Caliper
This type of brake caliper has two pistons on one side of the rotor and is designed to provide more even and consistent pressure distribution across the brake pads. Dual-piston calipers are often used in high-performance and sports vehicles where braking performance is a priority.
Multi-Piston Brake Caliper
This type of brake caliper has multiple pistons on both sides of the rotor and is designed to provide even pressure distribution, resulting in improved braking performance and heat dissipation. They are commonly used in high-performance vehicles and racing applications where precise and consistent braking performance is critical.
Opposed Piston Brake Caliper
This type of brake caliper has pistons on both sides of the rotor that push against each other to apply pressure to the brake pads. This design provides balanced and even pressure distribution, resulting in improved braking performance and reduced brake pad wear.
GDST brake calipers are typically made from materials that are known for their strength, durability, and resistance to heat and corrosion
Cast iron is a popular material for brake calipers due to its high strength, durability, and excellent heat dissipation properties. Cast iron calipers are typically used in heavy-duty applications, such as commercial vehicles, high-performance sports cars, and racing vehicles, where braking forces and temperatures are extreme.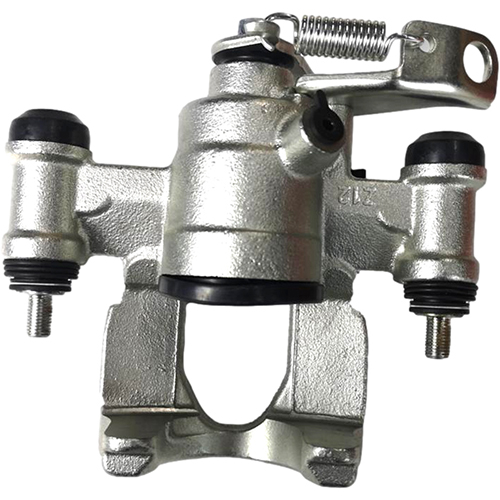 Aluminum is a lightweight material suitable for performance-oriented applications because of its excellent heat-dissipation properties. Aluminum calipers are lighter than cast iron calipers, which can help reduce the overall weight of the vehicle, resulting in improved fuel efficiency and performance. Aluminum calipers are commonly used in passenger cars, motorcycles, and other vehicles where weight reduction is a priority.
Stainless steel is a corrosion-resistant material that is commonly used for brake calipers in high-end or luxury vehicles. Stainless steel calipers offer excellent durability and resistance to corrosion, making them ideal for vehicles exposed to harsh environmental conditions, such as saltwater or extreme weather.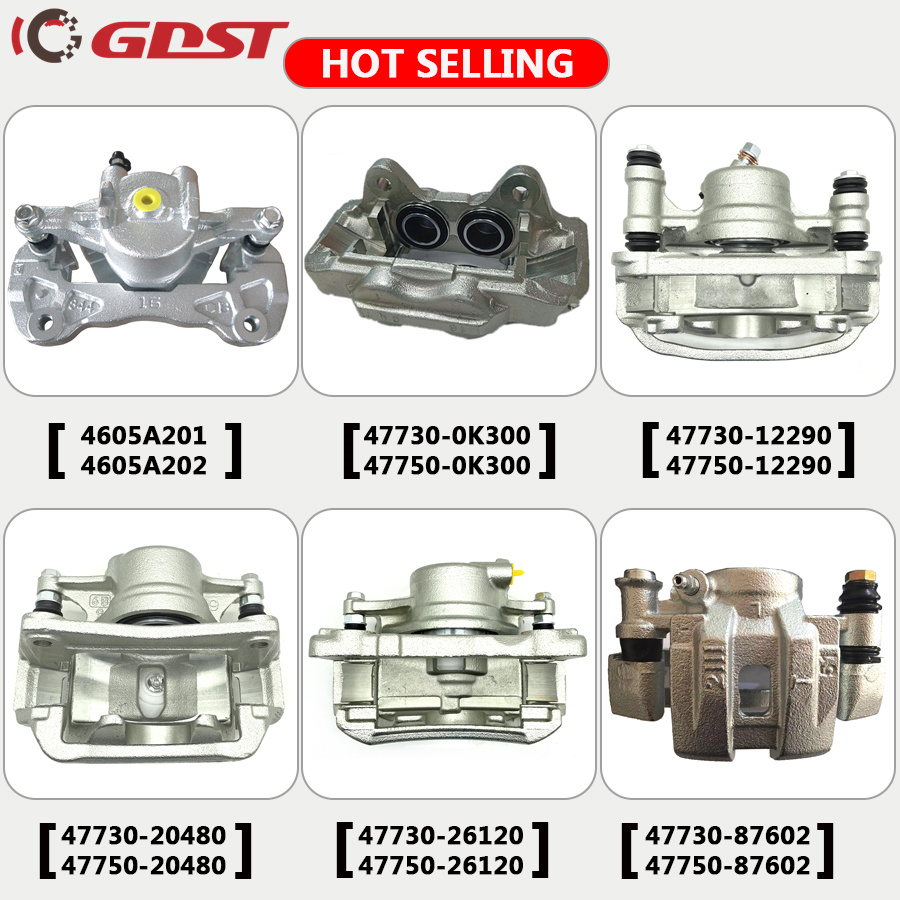 There are more than 10,000 models in this catalog, you can leave us your email download the catalog.
Step1: Design and Engineering
The first step in the production process of a brake caliper is the design and engineering phase. This involves creating a detailed design of the caliper, considering factors such as braking performance, fitment, material selection, manufacturing feasibility, and regulatory requirements.
Step2: Material Preparation
Once the design is finalized, the appropriate materials for the brake caliper are selected and prepared. This may involve the casting or forging of metal components, cutting and shaping of composite materials, or other material preparation processes depending on the chosen material.
Casting: If the brake caliper is made from cast iron or other metals, the casting process involves melting the metal, pouring it into a mold that is shaped to match the caliper design, and allowing it to solidify to form the caliper body.
Forging: For brake calipers made from forged materials such as aluminum, the forging process involves shaping the heated material by applying pressure with dies or molds to achieve the desired shape and dimensions.
Machining: After the caliper body is cast or forged, it may undergo machining processes such as milling, drilling, and grinding to achieve precise dimensions, tolerances, and surface finishes.
Composite Layup: If the brake caliper incorporates composite materials, such as carbon fiber-reinforced polymers (CFRP), the production process may involve layering and bonding of composite materials in a specific pattern, followed by curing or heat treatment to achieve the desired strength and stiffness.
Once the individual components of the brake caliper are manufactured, they are typically assembled to form the complete brake caliper unit. This may involve attaching brackets, pistons, seals, dust covers, and other hardware, and ensuring proper alignment and fitment.
Throughout the production process, various quality control measures are implemented to ensure that the brake caliper meets the required specifications and performance standards. This may include visual inspection, dimensional measurement, non-destructive testing, and other quality assurance procedures.
Brake calipers may undergo surface treatments such as painting, powder coating, or anodizing for corrosion protection, aesthetic appearance, and durability.
Step7: Packaging and Shipping
Once the brake calipers have passed the quality control checks and surface treatment processes, they are typically packaged and prepared for shipping to automotive manufacturers, aftermarket suppliers, or other customers.
Want to get a competitive price?
The price is a very important factor in the product. Every customer wants good product quality and a more competitive price. While a product consists of variable costs and its own fixed costs. Please tell us your requirements for the product, and we will give you a reasonable and satisfactory price.
We have many different kinds of testing devices to test the products in all aspects, in order that our customers will receive high-quality and durable products. Comprehensive testing ensures good quality.
Safe and reliable quality, stable quality
20 years of production and operation on brake calipers, more than 20 people's R & D team, professional laboratory, to ensure the stability of our product quality, product safety, trustworthy.
All products are rigorously tested to ensure high quality and stable performance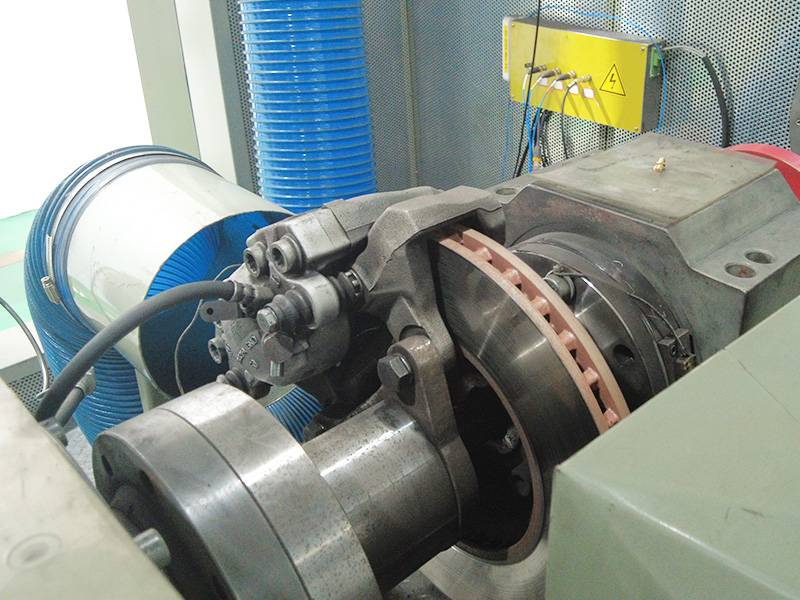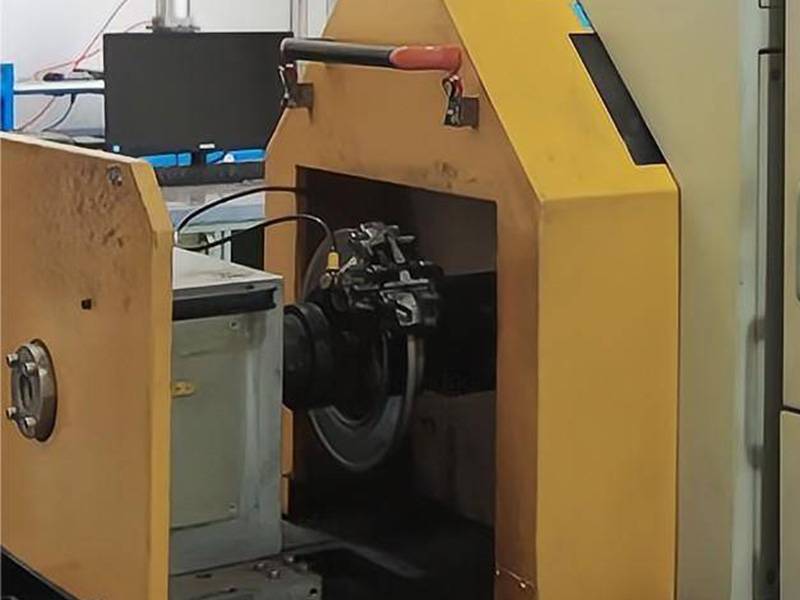 No noisy, rigorous testing to ensure excellent product quality
Shear Strength Test
Speed Measuring
Hardness Testing
Shear strength
Cold Compressbllty
Hot compressibility
Thermal swell
Heat conductivity
Content of Asbestos
Content of Harmfulsubstance
Salt spray test
Krauss test Krauss
AK-Master(Dynoperformance test)
NVH(Dyno nolse test)
Short wear(Dynowear test)
AMS(Dyno braking distance test)
Keep improving, meet customer needs. Win by quality, manufacture reliable products. Treat customers with sincerity, and provide quality services.
Wide range of vehicle series: Japanese Korean cars, American European cars, Chinese cars, etc.
Full product models: More than 8,000 models, covering more than 95% of vehicle applications in China, and North&South America. Europe & Southeast market.
Development investment: Every year, we will invest a lot of money to develop new products, and constantly enrich and improve the varieties and models.
Advanced production equipment: our factory has advanced production equipment, consummate testing technology, and also process and export finished goods abroad.
Strong R&D and production capabilities
If you have any interest or questions about our brake discs, please feel free to contact us, we will reply to you within 8 hours. 
For us to quickly understand your request and give the exact price. It is better if you can provide your detailed list for the brake calipers.
Such as:
1. Part number(OE, A.B.S, BOSCH, BENDIX) with the QTY you need.
2. Your target marketing.
3. The packing details such as color box design carton detail requirement.
4. Any special requirements please tell us, we do our best to meet your requirements.
The more information you give, we can easily understand your request fast and give you the goods you want.
However, if you only want to know the price, just send your list, and our sales with contact you to get your detailed request.
Your inquiry will be sent to sales manager and get a reply within one working day.