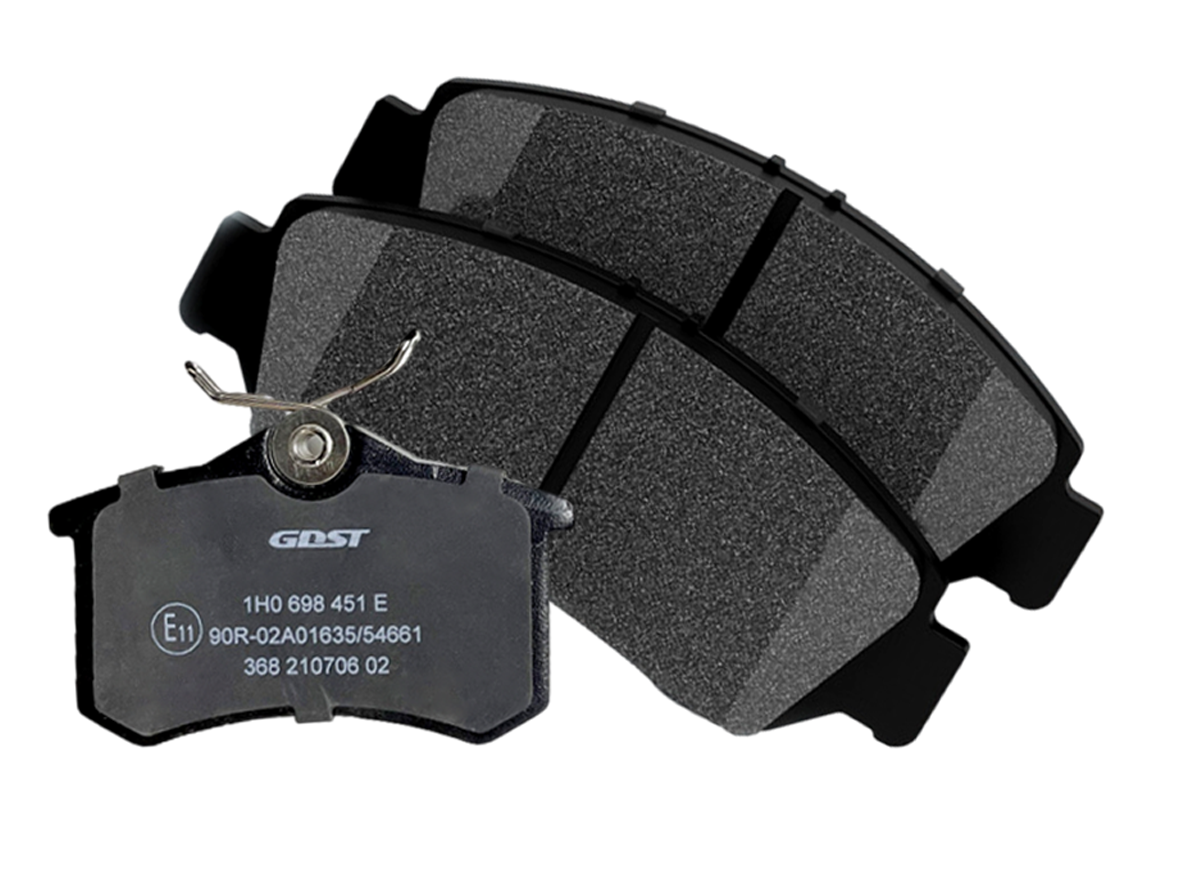 Trustworthy

Brake Pad

Manufacturer and Supplier
20 Years of Experience in Produce Ceramic, Semi-metallic, and Low-metallic Brake Pads.
Experienced R&D, Production, and Sales Team Meet your various needs for the brake pads
Table Of Contents For This Page
It is not easy to introduce all aspects of brake pads, so we have prepared a lot of information on this page for you to delve into. To make sure you can find the information you want quickly, we have prepared this content directory that will jump to the corresponding location when you click on it.
General

Hot Selling

Products
Our company has advanced process formulations and has developed high temperature resistant, wear resistant, pollution-free and non-noise products with good stability by semi-metallic, low-metallic, non-asbestos and ceramic formulations.
Composed of copper,zinc,aluminum and other soft metals,other metal components less than 3%,no steel fibers,no heavy metals,density 1.8-2.3g/cm³, imported resin and mineral fibers can make the brake disc to keep neat, no noise, no rust, high brake comfort, and sensitive braking, good insulation performance, service life: 40,000 km -50,000 km
Steel fiber content in 5%-20%, density 2.0-2.5g/cm³, high quality mineral fiber can make the brake disc not easy to black, almost no noise, not easy to rust, high brake comfort, and sensitive braking, good insulation performance, service life: 30,000 km – 40,000 km.
The content of steel fiber and iron powder is more than 20%, (including copper fiber, golden dots can be seen on the surface),widely used in the aftermarke,service life: 30,000 km
The

Components

For Brake Pads
Brake pad components: brake plate, friction body, anti squeal shim and other accessories
Wanna more information for the bake pads?
There are more than 10,000 models in this catalog, you can leave us your email download the catalog.
Estimated

Cost Analysis

For Brake Pads
Semi metal, low metal and ceramic
It can increase friction, heat dissipation, dust removal, etc
It can increase friction, heat dissipation, dust removal, etc
Used to fix the friction material and is easy to install on the brake system
Used to reduce or eliminate noise when braking
Semi metal, low metal and ceramic
The

Process Flow

About Brake Pads
At present, the company has Dozens of formulations ( such as semi-metal, low-metal, ceramic,etc.) , which have been tested and road-tested for more than half a year, covering high and low grade models. These are widely applicable to North American, European, southeast Asia  and the local market.
Step 1: Mixing Process - 800 L Plough And Rake Mixer
The brake pads are composed of chemical substances such as steel fibers, mineral wool, graphite, wear inhibitors, resins, etc.We mix according to the customer's requirements for the product. The friction coefficient, wear index and noise value are adjusted by the proportional distribution of these raw materials.
Step 2: Brake Plate Processing Process
1. Clean. Clean the surface of the steel parts, no oil and dirt means clean.
2. Shot blasting. Shot blasting refers to making the surface of the steel back meet a certain roughness requirement.
3. Gluing. Pay attention to the thickness and cover rate when applying glue; there is no residue on the surface.
Step 3: Hot Forming Process and Heat Treatment
Pour the mixed raw materials into the mold and press to form, so that the two can be more closely combined. the rough brake pads are put into the oven, fried and heated for more than 6 hours before continuing processing.
A pair of molds can generally produce 6-8 rough brake pads, and it takes more than half an hour to change a set of molds
Step 4: Grinding And Cutting Stage
After heat treatment,the brake pad still have many burrs on the surface, so they need to be ground and cut to make them flat.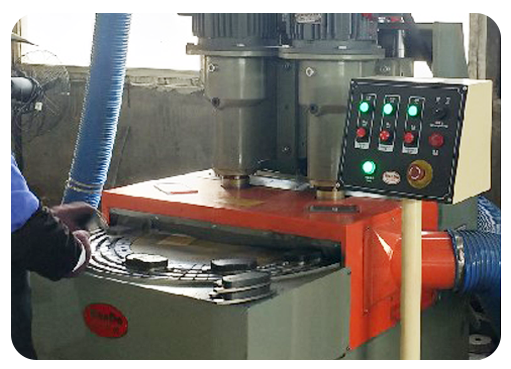 Step 5: Machining Process
Slotting and chamfering:
Grooving can increase friction, heat dissipation, dust removal, etc. pay attention to the thickness and flatness of the grinding surface when grooving and chamfering with a linear grinder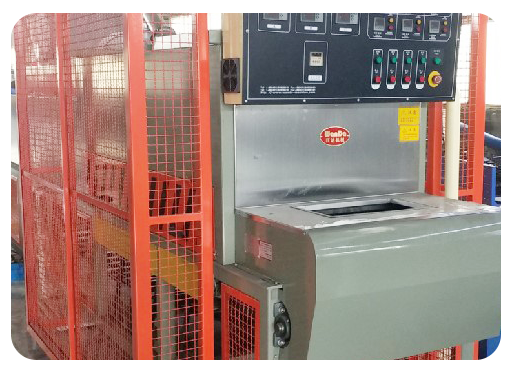 In order to prevent the iron from rusting and to achieve a beautiful effect, it is necessary to spray paint. Electrostatic spraying (spraying: flat powder, sand grain powder): When spraying powder, pay attention to electrostatic voltage, drying tunnel temperature and drying tunnel baking time, as well as spray thickness, uniformity and coating coverage rate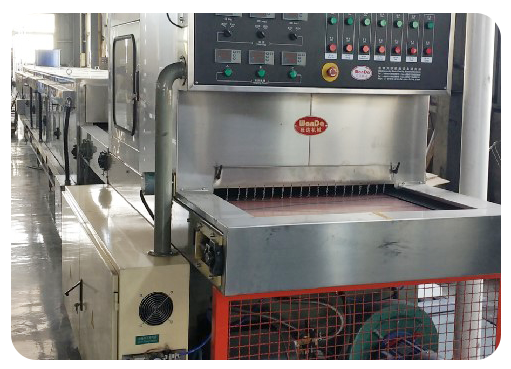 Pad printing and coding: Coding on the side of the powder block and the steel back, pay attention to the position, size, adhesion and clarity of the coding;
Accessories installation: Accessories assembly (riveting; gluing): Pay attention to studs, Positioning holes, positioning grooves; riveting includes rotary riveting (PAD) and pressure riveting (SHOE); pay attention to accessories configuration, accessories positioning. Accessories firmness and effective alarm length; pay attention to check the alarm, shockproof plate, reinforcement block, wire, Fitting of circlips, springs, gaskets and other accessories.
Into color boxes, cartons, packaging, wooden pallets and other follow-up work.
Want to get a competitive price?
The price is a very important factor in the product. Every customer wants good product quality and a more competitive price. While a product consists of variable costs and its own fixed costs. Please tell us your requirements for the product, and we will give you a reasonable and satisfactory price.
The

Testing Devices

About Brake Pads
We have many different kinds of testing devices to test the products in all aspects, in order that our customers will receive high-quality and durable products. Comprehensive testing ensures good quality.
High-quality formula Professional design
Professional structural design and materials, so that the brake pads achieve high-performance braking effect.
Design chamfering and slotting according to needs, reduce noise, and quickly dissipate heat.
Safe and reliable quality, stable quality
20 years of production and operation on brake pads, more than 20 people's R & D team, professional laboratory, to ensure the stability of our product quality, product safety, trustworthy.
All products are rigorously tested to ensure high quality and stable performance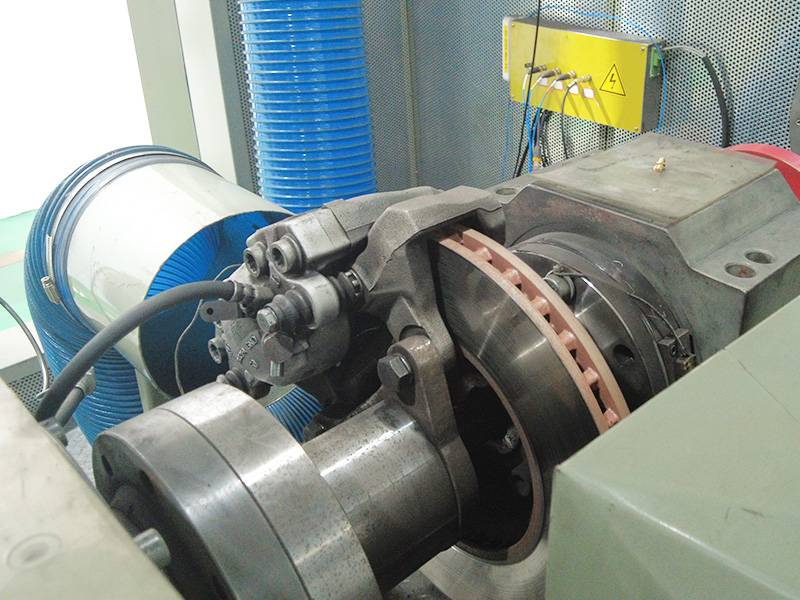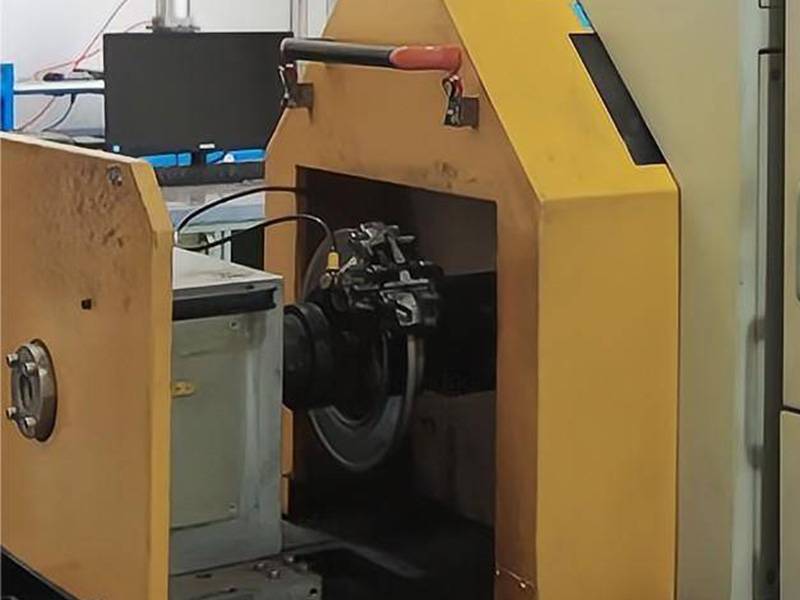 No noisy, rigorous testing to ensure excellent product quality
Shear Strength Test
Speed Measuring
Hardness Testing
Shear strength
Cold Compressbllty
Hot compressibility
Thermal swell
Heat conductivity
Content of Asbestos
Content of Harmfulsubstance
Salt spray test
Krauss test Krauss
AK-Master(Dynoperformance test)
NVH(Dyno nolse test)
Short wear(Dynowear test)
AMS(Dyno braking distance test)
A Brief

Self-Nomination​

, Why Choose GDST?
Keep improving, meet customer needs. Win by quality, manufacture reliable products. Treat customers with sincerity, and provide quality services.
Wide range of vehicle series: Japanese Korean car, American European car, Chinese car, etc.
Full product models: More than 8,000 models, covering more than 95% of vehicle applications in China, and North America. Europe & Southeast market.
Development investment: Every year, we will invest a lot of money to develop new products, and constantly enrich and improve the varieties and models.
Advanced production equipment: our factory has advanced production equipment, consummate testing technology, and also process and export finished goods abroad.
Product features Low noise, Low dust, environmental protection, and stable braking performance.
Strong R&D and production capabilities
The

FAQs

About Brake Pads
If you have any interest or questions about our brake pads, please feel free to contact us, we will reply to you within 8 hours. 
Are you a trading company or factory?
We are a brake pads factory, and we also have a trading department.
Because our business is doing well, with good quality and service.We have made many friends from various countries, and they often ask us to help them purchase some other auto parts from China. It broadening our product range, we can offer our friends different auto parts products, such as control arm,tie rod end, ball joint and more than 30 kinds of auto parts.
What's your MOQ?
Normally

MOQ is 100 pieces of each model.

For the new clients,

MOQ 50pcs/ model

or so is supported.  We are willing to let customers experience our products to know our products and all, only by understanding each other, it can bring you greater benefits. Also naturally will get more orders from customers, if you had a wonderful experience
Can you use my package design, and print my logo on the products?
We support customized packaging.
Sure, all you need is to provide us with your certificate of trademark registration and authorization paper.
And we can also print your logo, product number, or any info you want on the surface of the products.
Which countries have you exported?
We provide the same high quality products for different customers and meet their customized needs Our customers are all over the world and they love our products.We have sold our products to 100 countries all over the world.
What kind of certificate of your factory?
We are qualified with IATF 16949.AMECA Certification, NSF Certification
What's your quality guarantee?
Basically, our brake pads assure 12 months or 30.000kms, and every client will get our lifelong after-sale service.
What is your delivery time?
Normally, delivery time is around 45 days after the order confirmed. 
Urgent orders, we can handle special 
Could I get your sample?
Welcome to try our products. Just pay the freight. The freight will return back once you place an order.
For us to quickly understand your request and give the exact price. It is better if you can provide your detailed list for the brake pads.
Such as:
1. Part number(FMSI, ATE, OE, TRW, TEXTAR) with the Qty you need
2. What materials do you need: semi-metallic, low-metallic, ceramic
3. Is the brake pad with a shim or not?
4. The packing details such as color box design carton detail requirement.
5. Any special requirement  please tell us, we do the best mee your requirement
The more information you give, we can easily understand your request fast and give the goods you want.
However, if you only want to know the price, just send your list, and our sales with contact you to get your detailed request.
Your inquiry will be sent to sales manager and get a reply within one working day.